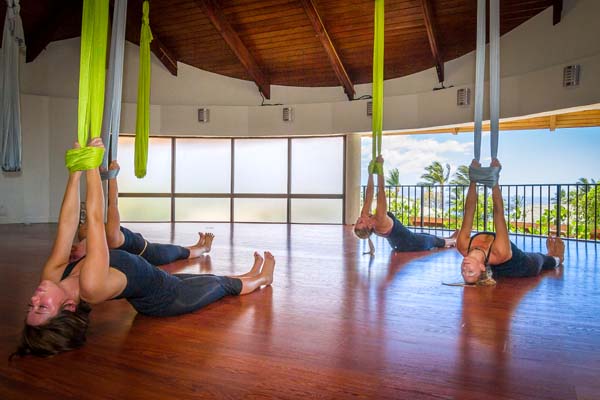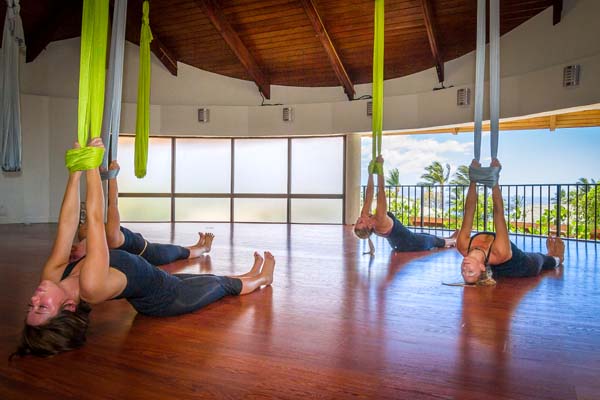 Etiquette
It is important to arrive ON TIME, and highly recommended to arrive a little early to allow for time to check in, fill out paperwork, and customize the height of your equipment. We cannot accept late arrivals due to the disruption this causes for the other students and the instructor.
Please do not wear any jewelry of any kind or wear clothing with zippers or anything with sharp edges, as this can cause damage to the silks and can also interfere with your practice.
Please do not chew gum during class. Please do not come to class if you have had any alcoholic beverages prior to arrival.
Hotel Wailea is an adult-only hotel; we unfortunately cannot allow anyone under the age of 16 to come to class.
Please be respectful to others and encouraging! We are here to uplift and help each other rise above challenges and create a fun, supportive, and peaceful environment. If you feel uncomfortable with anything, please let the instructor know.
Please turn off cell phone during class.
Please ask the instructor before taking photos or videos during class. This can be distracting and disruptive- we want to allow you remember your experience and share it, but doing it at the right time is important.  No video allowed of instruction.
Please wear fitted clothing. Yoga attire is great-it's preferable if clothing covers the back of the knees. No bathing suits.
If you plan to go to the hotel restaurant or bar after class, please bring appropriate attire to change into after class.
CANCELLATION POLICY:
15 Hour Cancellation Policy.  If you cancel less than 15 hours before the start of class or do not show, you will be charged the full rate of the class or deducted a credit from your pass.  We have limited spots, and even more limited due to covid restrictions and space. If you are signed up for a series, and miss a class, you are allowed 1 makeup per series (if notice is given),  Makeup class must be made up within 2 weeks of missed class.
No refunds or credits for missed classes.
Please advise the instructor if you have any medical conditions or are pregnant; as always, please check with your doctor first.