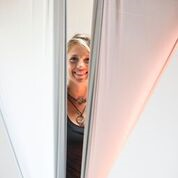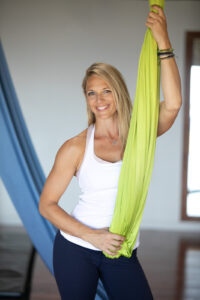 Andrea Fors (aka 'Dre') is the founder and owner of Uplift Maui. She discovered her love for aerial dance in 1998, while attending the University of Georgia. There, she apprenticed under the directorship of Susan Murphy, one of the first people to develop the art of dance-trapeze,
and there, she found a love for how physical strength and art/emotion collide.
She went on to help open one of the first dedicated aerial dance studios in the country, Canopy Studio, and became a member of Canopy's first Aerial Dance Repertoire Company from 2000-2005. During this time, she spent countless hours training on various equipment including silks, duo trap, lyra, and harness with Elsie and Serenity Smith, who performed for Cirque du Soleil, and currently own the New England Center for Circus Arts.
In 2006, Andrea moved back to Atlanta to help aerial dance partner, Nicole Mermans, conceptualize and found the D'AIR Project, a non-profit, teen-centered, aerial dance studio. There, she taught aerial for the kid, teen, and adult classes, and developed the aerial fitness and aerial yoga classes. In 2007, Andrea and Nicole founded, performed, and co-directed D'AIR's professional Aerial Dance Theatre Company from 2007-2013. The company became well-known in Atlanta and the Southeast, and produced many highly acclaimed shows that received national press. In addition, Andrea founded and performed for Aethereal Productions, a professional aerial dance company, for corporate events, fundraisers, and nightclubs, and has traveled internationally and performed for major corporations, events, resorts, and celebrity functions.
Andrea has been teaching aerial dance/fitness, pilates , personal training, and yoga for 20 years, but it wasn't until personal and health issues overcame her that she found her true journey. Battling back to health and alignment took many years, but after enduring through it with yoga and other modalities of healing, she is dedicated to helping others find their own path back to wholeness and health through movement, energy work, and proper lifestyle and nutritional choices. Part of that journey was moving to Maui, where she felt called to be.
She is dedicated to helping the community of Maui and those who visit our beautiful island to connect back to themselves and to those around them, and the community. Uplift Maui is founded on the premises that "we rise by lifting others" (Robert Ingersoll). A play on words for literally lifting people into the air as well as in so many other ways…physically, nutritionally, emotionally, and spiritually…to name a few.
Credentials:
E-RYT 500 Yoga Alliance Certified, Unnata Aerial Yoga certified, Power Pilates Certified, ISSA certified, B.S. Psychology; Masters in Social Work; Certified Institute for Integrative Nutrition Holistic Health Coach.